27 Year Old Gabonese Wins Title As Highest Goal Scorer In The Most Attended Soccer League In The World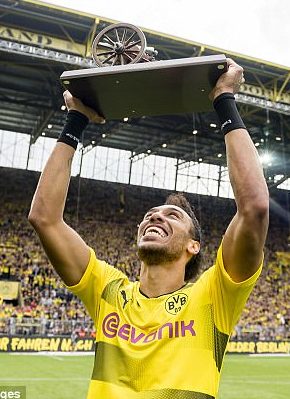 There is a rare feeling that matches the exhilaration of scoring a goal in soccer. It is that imperial feeling of dominance when the goalkeeper turns miserably around to pick the ball from his own net. Attackers know scoring doesn't come easy. It is more difficult in the top European soccer leagues where defenders are so tactical. Therefore, it is no ordinary feat when a player rises to become the highest goal scorer in Bundesliga, Germany's top soccer league. Bundesliga is also one of the top three soccer leagues in the world, boasting the highest average stadium attendance worldwide.
The highest goal scorer in Bundesliga for 2016-2017
Gabonese striker, Pierre-Emerick Aubameyang, who was dubbed 5th fastest footballer in the world by Mexican club C.F. Pachuca, finished as highest goal scorer in Bundesliga. It was a dramatic end to the season for Aubamenyang who reached a personal crescendo, marking the first time he is winning the prize.
Close call to a grand finale
For some time, Aubamenyang followed closely behind Robert Lewandoski who was favorite to take the prize home. However fortune shone on the African son when Lewandoski failed to score on the final of the season as his team Bayern Munich defeated their opponents Freiburg 4-1; thus finishing his season at 30 goals.
Aubameyang made tasty lemonade from lemons, pressing on this small set back for Lewandoski, scoring twice to climb from behind at 29 goals to the front of Lewandoski with 31 goals. It was a very emotional end to the season for the Gabon striker who scored the second goal very late in the game, taking his team, Borrusia Dortmund, to a 4-3 victory over their opponent, Werder Bremen, in a very thrilling and bursting encounter. The win enabled his team to secure third position while qualifying for the European Champions League.
Embed from Getty Images
Aubameyang told the club's official website: 'I feel very good. We reached third place and qualified directly for the Champions League, that was our goal. In addition, I took this trophy here (known as the Torjagerkanone). Everything was very emotional today, it was a very nice day.'
Such an enviable feat lifts Aubameyang into the glorious position of the second African player to have clinched the golden boot in Germany. The first being Tony Yeboah from Ghana who won the highest goal scorer in Bundesliga twice while playing with Eintracht Frankfurt consecutively from 1992-1994.
When Aubameyang was asked on how elated he feels snatching the prize from the favorite Lewandoski on the last day of the season, the Dortmund hero explained:
'It's a great feeling, because Lewy (Lewandoski) is for me the best striker in the world.
'To beat him is just madness! Yes, I feel very, very good. He shoots goals every week. Pity for him, but life is like that"