9 African Pumpkin Recipes To Try This Holiday Season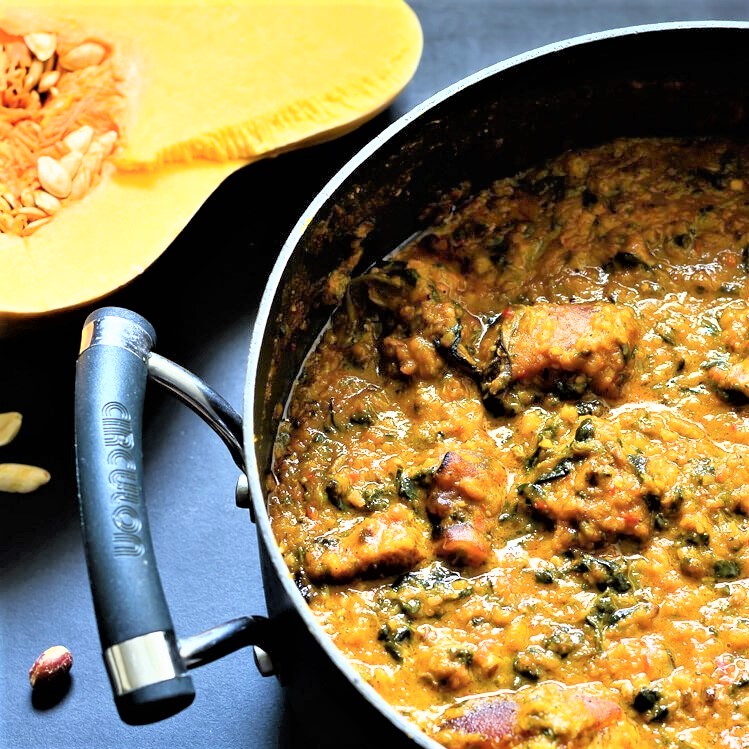 As we get into the holiday season, there is one staple item that makes it on many dinner tables. That item is the one and only pumpkin pie. But why be so predictable? How about you shift things a little and add one new dish that uses the oh so yummy pumpkin? Pumpkin is highly versatile. With our list of African pumpkin recipes, you can keep the menu fresh and leave everyone guessing.
Here are 9 Exciting Pumpkin Recipes To Try
#1 – Egusi Soup
[AdSense-A]
Egusi Soup is easily the most popular Nigerian soup. It can be paired with many different starches such as garri, pounded yam, fufu and the list goes on. The soup uses pumpkin seeds with a vegetable. This recipe uses Ugu (pumpkin leaves), however, other vegetables can be used with the recipe. Some vegetables that are typically used are bitter leaf and spinach.
#2 – Pampoenkoekies (South African Pumpkin Fritters)

[AdSense-A]
Pampoenkoekies – These South African pumpkin fritters are light, fluffy and literally melts in your mouth. Drizzled with caramel sauce and you're in pumpkin heaven. First of all it's a really great combination of flavors, which is light as air (it literally melts in your mouth). it is also quick and easy – ready in under 20 minutes. You can start eating these bite-sized treats.
So what is Pampoenkoekies? Pampoenkoekies is a traditional Afrikaans fritter that is served either as breakfast, snack dessert or a side dish depending on how it is made. They are a little bit savory, a little bit sweet, and a delight.
#3 – Efe Oha Soup
Oha leaves, also known botanically as Pterocarpus mildraedii are edible leaves of an evergreen tree found in West Africa. It is prepared as a soup with other condiments and served with fufu, eba or pounded yam. Oha soup is a very delicious soup especially when garnished with assorted meat, dry fish and stockfish. Try cooking it on your own by following the simple steps outlined below and you won't regret it. An appetizing vegetable soup from the south eastern part of Nigeria made using Oha and Uziza leaves.
#4 – Miyan Taushe
Miyan Taushe is s a savory pumpkin stew native to Northern Nigeria. It is commonly eaten with fufu/swallow, rice, and even naan bread. Naan bears some similarity to "gurasa": a local Hausa flat bread which is also a traditional side eaten with Miyan Taushe.  This dish is often eaten during Ramadan so it definitely is an option for festive occassions.
#5 – Egusi Pudding
Egusi pudding is a Cameroonian meal made out of egusi also called melon seeds or pumpkin seeds. The egusi is ground then mixed with fish, meat, other ingredients and steamed in banana leaves. It is a very delicious Cameroonian meal which you can enjoy as a side dish or a main meal. Hope you enjoy this video on how to make egusi pudding!
#6 – Liberian Pumpkin Stew
[AdSense-A]
It's called pumpkin soup but it isn't made with anything orange that you carve at Halloween. You use an orange colored squash. And, honestly, any squash you find is going to work on this dish. Once you get your squash, you throw in all the usual ingredients found in Liberian cooking.
#7 – Nhopi
Nhopi is a porridge like dish made mainly with pumpkin, shamba/winter squash, mealie meal, and peanut butter. Depending on the sweetness of the pumpkin, it can be a sweet dish but it is not eaten as a dessert. Sometimes people add sugar to it if the pumpkin is not sweet enough. My grandmother serves it for lunch with some vegetables like rape, or spinach. I like to eat it as a dessert.
#8 – Pumpkin Bredie
Add a stamp for South Africa to your culinary passport. Lamb stewed until tender with peppers, onion, spices, and pumpkin makes a beautiful dish to serve over rice.
[AdSense-A]
#9 – Bitter Leaf Soup
The soup gets it's name from the vegetable- bitter-leaf, also known as Vernonia amygdaline, wuro, or  onugbu . It is a widely consumed vegetable in West Africa and  is added to soups, stews and one pot meals for flavor, texture and nutritional benefits.
This flavorful West African vegetable soup recipe is predominant in Cameroon. It can be paired with a starch of your choice like fufu.
With Thanksgiving around the corner, there is no better time to start preparing for your menu. It is important to mention that pumpkin is highly nutritious. When you prepare a pumpkin recipe for the family you are also bursting them with essential vitamins and minerals. Which of the recipes do you think you will be giving a try first? feel free to share your thoughts in the comment box below.