African Vibes at the Pan African Film Festival (PAFF) opening scene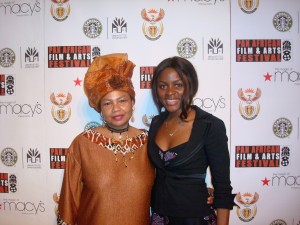 It was raining and pouring but Los Angeles filmmakers, celebrities, city officials, and media came out among others to show their strong support for the #Pan African Film Festival (#PAFF) on Thursday night. Guests graced the Director's Guild of America where the opening event was hosted, with their beautiful and colorful outfits. Among the guests was African Vibes Magazine Editorial Director, Amabel Niba.
The evening was kicked off by Ayuko Babu, PAFF's founder, and hosted by the charismatic and ever so charming #Blair Underwood.  Marla Gibbs was given the coveted Lifetime Achievement Award with a fun acceptance speech asking Babu to rename the award because she was not done yet. Also honored was Actor #Omar Benson Miller ("Miracle at St. Anna") for PAFF's Canada Lee Award. The funny actor left the podium saying "I do not want to be one of those actors who are disillusioned by Hollywood. Instead of letting Hollywood work me, I will work Hollywood".
California Assembly Speaker #Karen Bass flew in from Sacramento where she and her colleagues were working hard to get a very late state budget together, so she could be at this event. She was recognized for her commitment to supporting the exhibition of film, art and creative expression with the Community Service Award. Also awarded for her support and commitment to the festival was South Africa Consulate General  Honorable #Jeanette Ndhlovu who made guests laugh when she told everyone that Blaire Underwood had made a commitment to go Shark diving in South Africa. A scary prospect for such a favorite among women but a good-faith gesture all the same.
After the awards was a screening of the movie "Jerusalema". When asked about her impression of the festival and opening movie, African Vibes Editorial Director said "This festival is so necessary. You can tell from the fliers and filmmakers who are here tonight and promoting their films, that they have worked really hard. We need to come out and show our support for them by watching their movies. We all owe our gratitude to Babu and his team for making it possible for black filmmakers from all over to expose their work, in effect sharing our stories with the community.
"As far as Jerusalema is concerned, I think Ralph Zinman made me proud. The story was engaging even though it was a little longer than I expected.  Rapulana Seiphemo played his character, Lucky Kunene, quite convincingly. South Africa is definitely taking the lead in film-making with films that can truly compete with the West; a reminder that the world has gotten smaller. I am sure there are many African filmmakers who are hot on the heels of Hollywood, working with less but making the most out of the tools and finance they have to produce some compelling films."
Niba's statement rings true indeed and can be seen in the diverse storytelling of the filmmakers who made submissions this year. After the screening, filmmakers wasted no time in promoting their movies and encouraging guests and media representatives to screen them. The evening progressed with buffet-style dinner, cocktails, and a live music presentation from George Clinton's band. Overall the night was a success and a reminder that the success of those telling our stories needs the support of the community; our support.
PAFF SCREENING DATES